Bio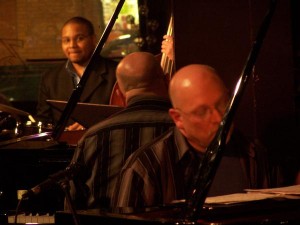 Tad  holds a Masters Degree in Jazz Studies from The Grove School in Los Angeles, studying classical piano repertoire and composition at Central Michigan University before migrating to Los Angeles to complete his studies and intensify his performance life.
Tad's career is acknowledged in Leonard Feather's Encyclopedia of Jazz.  Feather wrote, "…pianist Weed displays a very rare ability to cross over from dashing bop lines to rich impressions, he has all of the bases covered from funky blues to the border of the avant-garde"  Tad's discography contains over thirty recordings which feature his playing, arrangements and compositions.
His performing experience includes touring internationally as pianist/musical director for Carmen McRae, Anita O'Day, Paul Anka, and Jack Jones.  He has been a member of various ensembles including Charles Lloyd, Nick Brignola, Woody Herman, Mundell Lowe, John Patitucci, Vinny Golia, Richie Cole, Teddy Edwards, and Dick Berk.
While Tad was on staff at LA's Discovery Records, he recorded, arranged, accompanied and performed with Chaka Khan, Al Cohn, Kenny Burrell, John Clayton, Bill Watrous, Shorty Rogers, Jerome Richardson, Bud Shank, Stanley Turrentine, Wycliffe Gordon, John Carter, Bobby Bradford, Betty Carter, Wynton Marsalis, Frank Morgan and David 'Fathead' Newman.
Since returning to Michigan, Tad has served on the music faculty of University of Michigan, Bowling Green University, Western Michigan University, and the University of Windsor.  He is currently the Adjunct Assistant Professor of Jazz Piano at Bowling Green State University, and the Assistant Professor of Jazz Studies at the University of Toledo.
He continues to teach and conduct clinics in jazz and composition as well as perform and write for his group The Freedom Ensemble and his Dobbins, Krahnke, Weed Trio, while playing and touring with the Dave Bennett Sextet.